A jogging flower - humble sea lily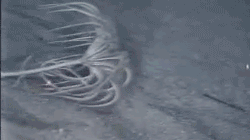 The humble sea lily (Endoxocrinus parrae) is an ocean animal closely related to the starfish, sea cucumber and sea urchin. With a ring of feathery fingers and a stalk 50 centimeters long, it resembles an ocean garden flower. And it has a sophisticated method for avoiding danger as caught in the video after the jump which shows a sea lily crawling slowly across the ocean floor on its fingers, dragging its broken stem behind it.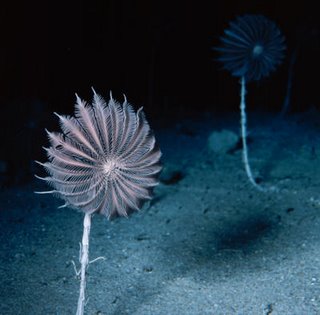 Other footage and photographs captured suggest that the sea lily makes its ocean floor dash to escape the attentions of sea urchins, which have been seen lurking on the sea bed behind the traveling sea lilies - "It's the lizard's tail strategy," Baumiller says. "The sea lily just leaves the stalk end behind. The sea urchin is preoccupied going after that, and the sea lily crawls away."
Did you like this? Share it with others:
Mathematics of Hazrat Ali (A.S.)
These were the genius that Hazrat Ali (A.S.) was in his time. People always asked their problems / tough question to Hazrat Ali (A.S.), but Ali (A.S.) answered very smartly.
Views: 9278
Provided by: Zoaib Khambaty and Husain Kapadia
The original logos of famous companies
A COMPANY LOGO is often considered the most critical element of a corporate brand. Stocklogos.com, an identity design community that offers high-quality logos, has compiled a list of before-and-after logos for 20 of the biggest brands.
Views: 2393
Provided by: Sushmita Rani
Vatican City
Vatican City is a landlocked sovereign city-state whose territory consists of a walled enclave within the city of Rome, Italy. It has an area of approximately 44 hectares (110 acres), and a population of just over 800. This makes Vatican City the smallest independent state in the world by both area and population.
Views: 3804
Provided by: Naresh Vakharia

Warning: getimagesize(/var/chroot/home/content/39/2048539/html/wonderfulinfo.com/winfo/christmas_gifts/pic.jpg) [function.getimagesize]: failed to open stream: No such file or directory in /home/content/39/2048539/html/wonderfulinfo.com/includes/footer.php on line 193


Fantasy Christmas Gifts
Neiman Marcus: fantasy gifts in the Christmas Book 2010
Views: 2901
Provided by: Deepak Punjabi
Where Children Sleep
American journalist Chris Booth and photographer James Mollison toured the world and took photos of childrens bedrooms and compiled them into a book Where Children Sleep. The differences between the sleeping spaces of children from different regions is striking
Views: 4338
Provided by: Shashi
Wonderful Fact of the Moment
In every 5 minutes, one woman somewhere in India dies from a pregnancy related complication. When a woman dies, her new born baby has 6 to 10 times greater chance of dying as well. more...